---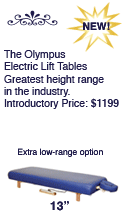 ---
EMPRESS


Versatile client positioning. The foot section lowers for a roll-up foot spa. Tilts up for inversion therapy. Perfect for facials, pedicures and massage.
---
VERONA TILT


Offer your clients the health benefits of incline positioning! Raise the head or feet to new levels.
---
GRAND VERSAILLES


Maximize your income! The only table that does, facials, manicures, pedicures, waxing, wraps and massage —with nothing more to buy!



Wood & Metal Finishes And Metal Trim Options


IMPORTANT NOTE:
Actual colors may be different from what you see on your screen. We cannot guarantee that your monitor will display these colors accurately. The wood and metal samples as you see them are approximations only. See your distributor for wood and metal samples if you need to see the exact color.

We regret that we cannot be responsible for rebuilding a product due to dissatisfaction with the color

.





ALL WOOD CABINET MODELS:

Wood Cabinet Options

The Victoria Queen™ and Versailles™ cabinets are in French Provincial/Classic (curved-line) or Contemporary (straight-line) designs.

Standard Wood Finish Options

The Victoria Queen™ and Versailles™ series are available with choice of natural maple (lacquer) or whitewash (paint and lacquer).

The Versialles™ series is also available in oak trim with natural (oil) finish.
Natural Maple
Whitewash
Natural Oak



---





Silver Pearl

Ivory

White





Black

ALL UPLIFT MODELS:

Standard Metal Frame Options

The frames on all metal-base tables are available in ivory, silver pearl or white powder-coated finish.



Pedals and Trim Options

The pedals and trim (accessory accents) on all metal-base tables are available in the same three above colors - plus black.